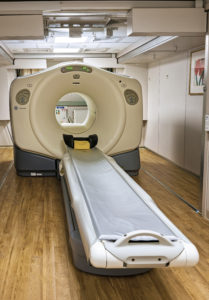 In July of 2000, Reno Diagnostic Centers (RDC) introduced Positron Emission Technology (PET) to northern Nevada. By doing this, RDC added an important new dimension to a physician's ability to diagnose and manage cancer.
Unlike other imaging technologies that detect changes in the physical size or structure of internal organs, PET/CT detects changes in cellular function. Since cellular changes may happen prior to the physical, PET/CT can provide earlier diagnosis of disease vs. traditional diagnostic procedures. PET/CT may also impact the workup of suspected malignancy and provide information regarding staging and treatment. It can also monitor the effectiveness of treatment.
Your physician will be able to tell you precisely what they hope to learn from your PET/CT exam.
Preparation and what to expect during the procedure:
Please allow 2-hours for all PET/CT exams (this will include a brief rest period).
The most common form of a PET/CT Scan begins with an injection of a glucose-based radiopharmaceutical (FDG).  This tracer material circulates through your body and will be metabolized, or "used," by your cells and organs.
Some cells and many diseases use FDG more than others, and PET/CT measures these differences. For this reason, after the injection of FDG you will be taken to a quiet room where you will remain relaxed about 45 minutes, while the FDG circulates throughout your body.
For the scanning portion, you will lie on a cushioned table and be positioned comfortably by the technologist. The table will move slowly through the machine during the scan. For the best quality images, you need to be as still as possible during the exam. The PET/CT scanning can take 30 minutes to an hour, depending on the information your healthcare provider requested.
The imaging technologist will be outside of the room and is immediately available at all times.
You may leave immediately after your scan. You may drive, resume your normal diet, exercise and take all prescribed medications as your activity will not be restricted.
A board-certified radiologist will interpret your images and your healthcare provider will then follow up with the results.
Cancellation Policy: Please notify us of a cancellation by 5:00 PM the day prior to the exam (or Friday by 5:00 PM for a Monday exam) to avoid an isotope charge.
Precautions and Safety Information:
The risks associated with a PET/CT scan are very minimal. The quantity of radiation is low and the FDG degrades quickly so that no detectable radioactivity is present after several hours.
In addition to radioactive decay, the remaining FDG is eliminated from the body through urine.  After your exam, staying hydrated helps to clear the remaining tracer more rapidly from your system.