One of the benefits of technology in medicine is narrowing broad population guidelines to individualize care.  In breast care imaging, new technology, including computerized density assessment, mathematical cancer risk modeling, and affordable genetic testing together form a personalized breast cancer assessment and testing strategy. At the end of each breast care appointment, you will receive a handout with your specific information and further testing recommendations.
Risk assessment and Genetic testing: Through a partnership with Ambry Genetics, we now offer a family history questionnaire, cancer risk analysis, genetic testing, and if needed, genetic counseling.  The data from the questionnaire is used to calculate a lifetime breast cancer risk using the Tyrer-Cuzick model.
Patients who meet National Comprehensive Cancer guidelines for further testing are offered an educational video and onsite saliva sample collection for a 34 gene panel.  The patient's out of pocket cost is typically under $100, with a cash pay maximum of $249. Results are completed within 2-4 weeks. If positive, patients meet with a genetic counselor.
Together, the components of this program are consistent with the recent recommendations of the American Society of Breast Surgeons, and we believe will be in line with recommendations coming from major societies in the near term.
Our initial experience is summarized in the chart below.  We've tested over 600 patients and identified approximately 50 with genetic mutations.  Approximately 10% of patients are at a higher risk than the general population, where additional screening is proven to save lives. Identifying patients with mutations further personalizes risk for the patient and their family members.
Your guidelines for preventative breast care may change depending on the results of your risk assessment
Mammography: Tomosynthesis (3D mammography) is the baseline recommendation in recent guidelines, and recommended for normal, intermediate, and high-risk women. Compared with traditional 2D mammography, 3D mammography has increased cancer detection, decreased false positives, and has similar low radiation exposure.
Breast Density: Since February 2019, RDC has implemented automatic density quantification using Volpara software for an objective, reproducible, breast density analysis. Increased breast density is associated with an increased breast cancer risk.  Patients with dense breasts are recommended to have supplemental screening with automated breast ultrasound (ABUS).
ABUS: Recent literature demonstrates that as a supplement to mammography in dense breasts, ABUS detects an additional 4 cancers / 1000 patients. 85% of these are invasive and node negative (serious, but typically curable).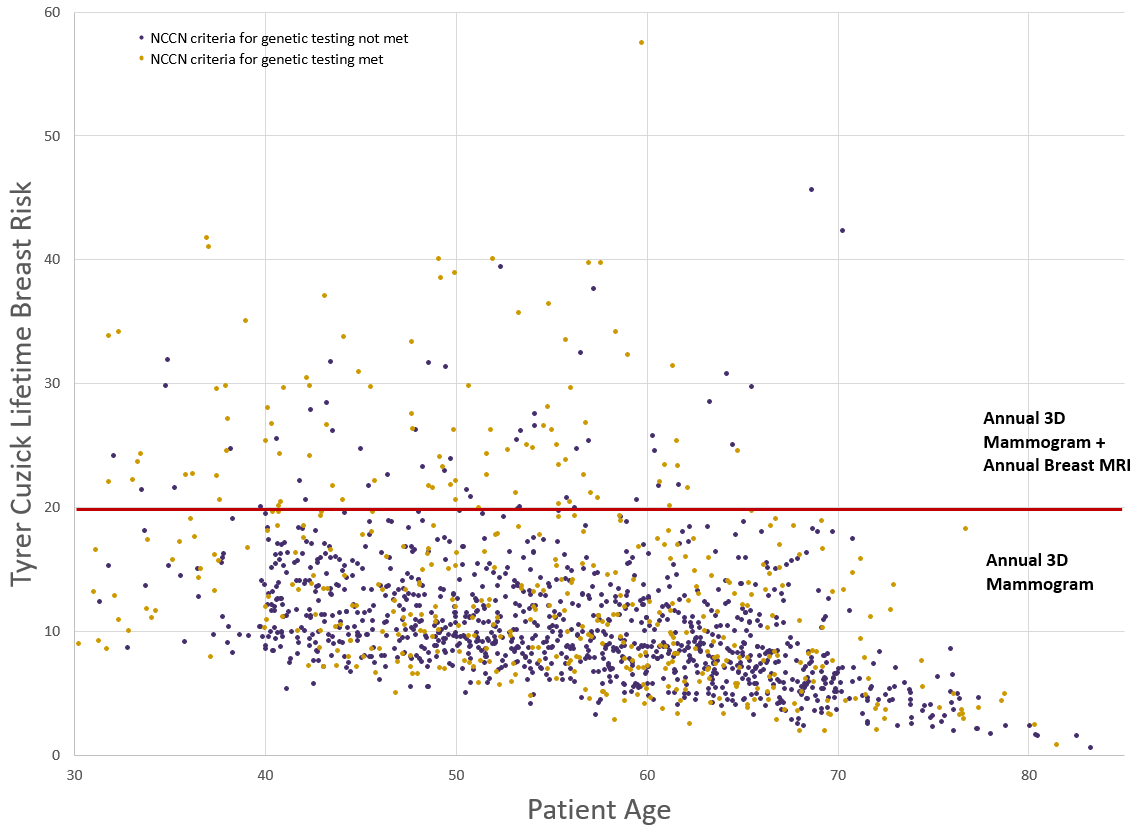 https://www.ambrygen.com/clinician/genetic-testing/1/oncology/cancernext-r
https://www.breastsurgeons.org/docs/statements/Position-Statement-on-Screening-Mammography.pdf